About Us
Marathon Kebab House is a Kebabs takeaway in Camden Town. Why don't you try our Cod or Beer (Can)?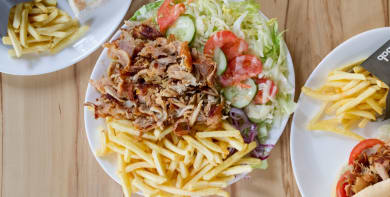 Reviews
146 reviews
Farah
"Tasty kebab, huge portion for the price, prepared and delivered quickly, friendly driver, would order again!"
20/01/2021
Kerry
"Always reliable and very tasty food"
16/01/2021
Kerry
"Usually food is great but on this occasion the chips were very dry like they,d been sat around for a while"
02/01/2021
Kerry
"Just very tasty"
19/12/2020
Menu
Breaded Mozzarella Sticks (8)
£5.50
Jalapeno Pepper Cream Cheese
£5.50
Quarter Pounder Burger with Cheese
£4.20
Half Pounder King Size Burger
£5.80
1/2 Halloumi Burger - [none]
£5.95
Falafel Wrap
Served as wrap or in pitta
£5.95
Falafel Pitta
Served as wrap or in pitta
£5.95
Hellim Wrap
Served as wrap or in pitta
£5.50
Hellim Pitta
Served as wrap or in pitta
£5.95
Lamb Donner Kebab Medium
Specially prepared lamb, roasted on an oven spit, served in pitta bread or wrap with salad
£6.90
Lamb Donner Kebab Large
Specially prepared lamb, roasted on an oven spit, served in pitta bread or wrap with salad
£7.90
Lamb Shish Kebab Medium
Cubes of lamb fillet marinated in olive oil, onion juice, herbs & seasoning cooked on charcoal grill, served in pitta bread or wrap with salad
£8.50
Lamb Shish Kebab Large
Cubes of lamb fillet marinated in olive oil, onion juice, herbs & seasoning cooked on charcoal grill, served in pitta bread or wrap with salad
£9.50
Donner & Shish Kebab
A combination of donner & shish, served in pitta bread or wrap with salad
£9.90
Chicken Shish Kebab Medium
Fresh cubes of specially prepared chicken skewered & seasoned, served in pitta bread or wrap with salad
£7.50
Chicken Shish Kebab Large
Fresh cubes of specially prepared chicken skewered & seasoned, served in pitta bread or wrap with salad
£8.70
Kofte Kebab
Kofte, served in pitta bread or wrap with salad
£8.50
Chicken Donner Kebab Medium
Specially prepared chicken breast, roasted on an oven spit, served in pitta bread or wrap with salad
£6.90
Chicken Donner Kebab Large
Specially prepared chicken breast, roasted on an oven spit, served in pitta bread or wrap with salad
£7.90
Large Chicken Shish Kebab
Lamb Donner & Chicken Shish Mixed Kebab
£9.90
Lamb Donner & Chicken Donner Mixed Kebab
£8.50
Chicken Shish & Lamb Shish Mixed Kebab
£10.50
Lamb Donner & Kofte Kebab Mix
£9.50
Vanilla Ice Cream with Pod
£6.90
Chips in Pitta Bread with Salad
£4.50
Beer (Can) Kronenbourg 1664
£3.25
Kids Chicken Nuggets (4), Chips & Drink
£4.95
Kids Lamb Donner, Chips & Drink
£5.95
Kids Chicken Donner, Chips & Drink
£5.95
Kids Sausage, Chips & Drink
£4.95
Family Meal Deal
1 Large Doner Kebab
1 Large Chicken Doner
1 Large Shish Kebab
1 Large Chicken Shish
2 Regular chips
1 Bottle of Coke
£36.90
Contact Us
Find Us
87 Chalkfarm Road, Camden Town, NW18AR
We deliver to
N1, NW1, NW3, NW5, NW8