About Us
Marathon Kebab House is a Kebabs takeaway in Camden Town. Why don't you try our Cod or Beer (Can)?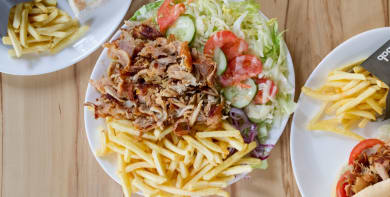 Reviews
132 reviews
Lynn
"arrived fast very hot and tasty"
02/10/2020
Shay
"Missing sauce but still good kebabs"
11/09/2020
Glen
"Great food"
25/08/2020
Tim
"As always, a excellent meal , been using this restaurant for years now, and never let down"
21/08/2020
Menu
Breaded Mozzarella Sticks (8)
£5.50
Jalapeno Pepper Cream Cheese
£5.50
Quarter Pounder Burger with Cheese
£4.20
Half Pounder King Size Burger
£5.80
1/2 Halloumi Burger - [none]
£5.95
Falafel Wrap
Served as wrap or in pitta
£5.95
Falafel Pitta
Served as wrap or in pitta
£5.95
Hellim Wrap
Served as wrap or in pitta
£5.50
Hellim Pitta
Served as wrap or in pitta
£5.95
Lamb Donner Kebab Medium
Specially prepared lamb, roasted on an oven spit, served in pitta bread or wrap with salad
£6.90
Lamb Donner Kebab Large
Specially prepared lamb, roasted on an oven spit, served in pitta bread or wrap with salad
£7.90
Lamb Shish Kebab Medium
Cubes of lamb fillet marinated in olive oil, onion juice, herbs & seasoning cooked on charcoal grill, served in pitta bread or wrap with salad
£8.50
Lamb Shish Kebab Large
Cubes of lamb fillet marinated in olive oil, onion juice, herbs & seasoning cooked on charcoal grill, served in pitta bread or wrap with salad
£9.50
Donner & Shish Kebab
A combination of donner & shish, served in pitta bread or wrap with salad
£9.90
Chicken Shish Kebab Medium
Fresh cubes of specially prepared chicken skewered & seasoned, served in pitta bread or wrap with salad
£7.50
Chicken Shish Kebab Large
Fresh cubes of specially prepared chicken skewered & seasoned, served in pitta bread or wrap with salad
£8.70
Kofte Kebab
Kofte, served in pitta bread or wrap with salad
£8.50
Chicken Donner Kebab Medium
Specially prepared chicken breast, roasted on an oven spit, served in pitta bread or wrap with salad
£6.90
Chicken Donner Kebab Large
Specially prepared chicken breast, roasted on an oven spit, served in pitta bread or wrap with salad
£7.90
Large Chicken Shish Kebab
Lamb Donner & Chicken Shish Mixed Kebab
£9.90
Lamb Donner & Chicken Donner Mixed Kebab
£8.50
Chicken Shish & Lamb Shish Mixed Kebab
£10.50
Lamb Donner & Kofte Kebab Mix
£9.50
Vanilla Ice Cream with Pod
£6.90
Chips in Pitta Bread with Salad
£4.50
Beer (Can) Kronenbourg 1664
£3.25
Kids Chicken Nuggets (4), Chips & Drink
£4.95
Kids Lamb Donner, Chips & Drink
£5.95
Kids Chicken Donner, Chips & Drink
£5.95
Kids Sausage, Chips & Drink
£4.95
Family Meal Deal
1 Large Doner Kebab
1 Large Chicken Doner
1 Large Shish Kebab
1 Large Chicken Shish
2 Regular chips
1 Bottle of Coke
£36.90
Contact Us
Find Us
87 Chalkfarm Road, Camden Town, NW18AR
We deliver to
N1, NW1, NW3, NW5, NW8